The SoftwareCentral Migration tool can be used to migrate data from one SoftwareCentral installation to another.
Only data from the SoftwareCentral database and installation is migrated. SCCM data is not migrated.
If you are migrating to a new SCCM server with a new SoftwareCentral installation, you must migrate your SCCM packages, applications and collections and maintain their IDs on the new SCCM server.
| | |
| --- | --- |
| | You can only migrate data between installations with the same version. |
| | |
| --- | --- |
| | If you are migrating data to the SoftwareCentral Cloud, you must be running the latest version of SoftwareCentral. |
| | |
| --- | --- |
| | When you migrate data, existing data on the target installation is removed. |
The SoftwareCentral Migration tool is located under the Settings menu: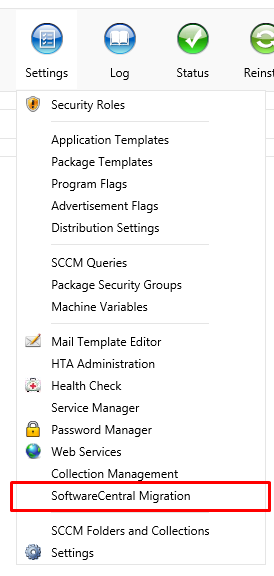 Export Data
Exported data will be saved in an xml file that can be used to import the data to another installation.
| | |
| --- | --- |
| | Note that to export data, you must allow pop-ups from SoftwareCentral. |
To export data, select the "Export Data" checkbox and click "Next" in the lower right corner: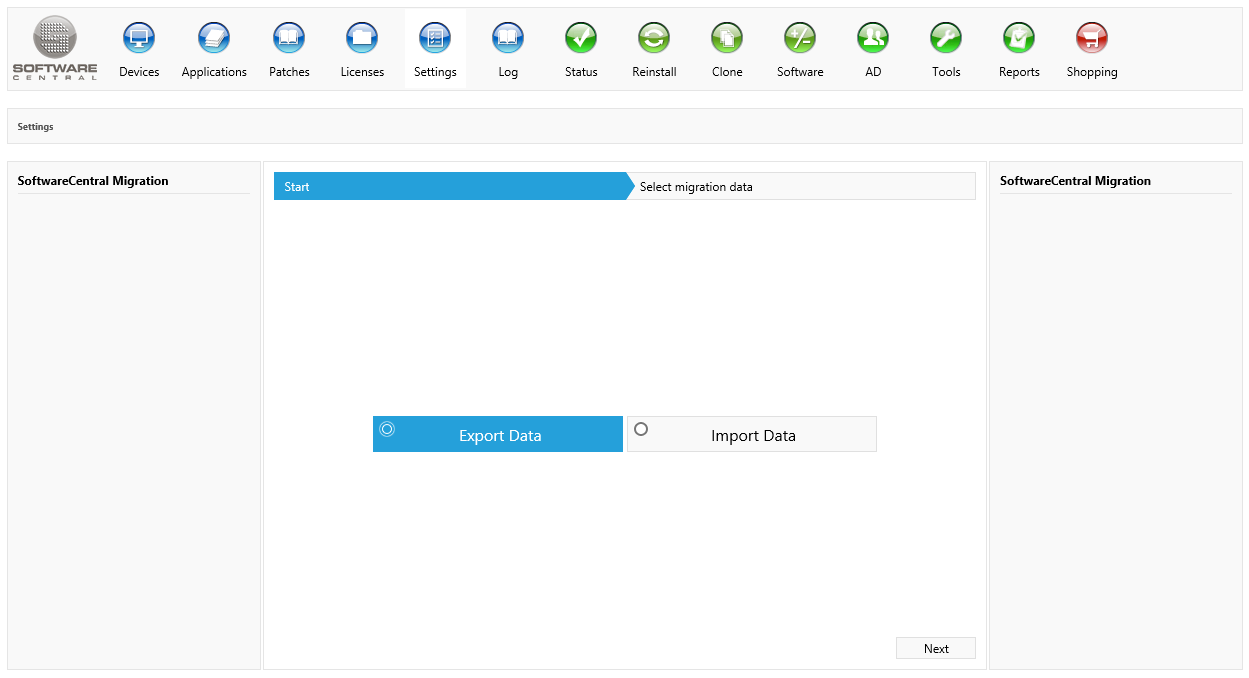 On the next page, a list of all the different data that can be migrated are shown.
Select the data you wish to migrate and click "Finish". Note that the export can take several minutes to complete. Do not close or refresh your browser will the export is in progress.
After the export, a downloadable xml file will be provided. Use this xml file to import your settings on the new SoftwareCentral installation.
You can see a description of each exportable item below the screenshot.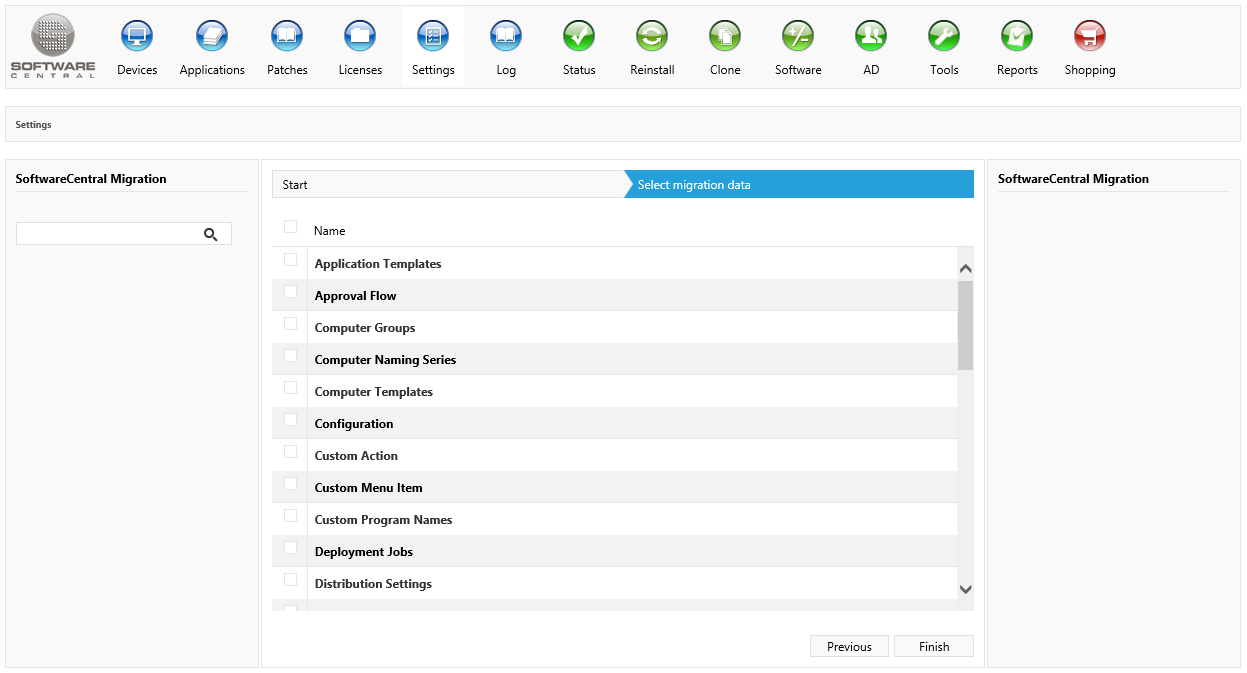 Application Templates
Exports all Application Templates.
Approval Flows
Exports all approval flows configured for your packages, applications and custom shop items.
Computer Groups
Exports all Computer Groups. If you are migrating to a new SCCM server, the migrated Computer Groups will not work.
Computer Naming Series
Exports your Computer Naming Series and their counters.
Computer Templates
Exports Computer Templates. Note that Computer Templates has many dependencies that are automatically selected when you select Computer Templates.
Configuration
Exports the settings from SoftwareCentral. This should not be used if you are migrating data to a new SCCM server.
Custom Actions
Exports your custom actions as configured in the Settings menu. Note that to export the assigned scripts, you must also select the "Scripts" option.
Custom Menu Item
Exports Custom Menu Items as configured in the Tools menu. Your scripts are included in the export and does not need to be copied manually.
Custom Program Names
Exports custom program names as configured under Package Management for packages with non-default program names.
Deployment Jobs
Exports the deployment history.
Distribution Settings
Exports the default distribution settings for Distribution Points, Package Security Groups and root folders. Do not include Distribution Settings if you are migration to a new SCCM server.
Domains
Exports data about your domain configuration. This should only be exported if you have configured untrusted domains or use pre-windows 2000 domain names.
HTA
Exports your HTA and its settings.
License Harvesting
Exports your License Harvesting rules. Do not include License Harvesting if you are migration to a new SCCM server.
License Information
Exports all your licenses and license groups. Note that if you import License Information on a new SCCM server, you must manually Resolve each license to get the installation count.
Local Group Reports
Exports your Local Group Reports.
Machine Variables
Exports your custom Machine Variables.
Mail Templates
Exports your Mail Templates.
Package Security Groups
Exports your Package Security Groups and their package assignments.
Package Shares
Exports your package shares paths. The content of the shares are not exported.
Package Templates
Exports all Package Templates.
Patch Management Data
Exports Patch Management templates. Patch Management data cannot be exported to the SoftwareCentral Cloud.
Pictures
Exports your images from the shop.
Reset Password Data
Exports data about reset password request.
Root Collections and Folders
Exports your assigned root collections and folders. Note that the actual collections and folders are not exported, only their meta data are exported.
Do not include Root Collections and Folders if you are migration to a new SCCM server.
Scheduled Jobs
Exports meta data about scheduled jobs. This is necessary if the new installation is to delete the scheduled collections after they expired.
Do not include Schedule Jobs if you are migration to a new SCCM server.
Scripts
Exports scripts uploaded to SoftwareCentral.
Security Roles
Exports your security roles. Security Roles have many dependencies in both SoftwareCentral and the SCCM.
If you are migrating your security roles to a new SCCM server, it is important that you go through your Security Roles after you have migrated them and verifies that they work.
Service Jobs
Exports all service jobs.
Shop Custom Items
Exports the custom shop items.
Shop History
Exports the shopping history.
Shop Meta Data
Exports the shop meta data such as friendly names and descriptions.
Shop Settings
Exports the settings for the shop.
Software Groups
Exports the Software Groups. Note that the actual task sequences and their collections in the SCCM are not exported.
If you are migrating to a new SCCM server, you must manually migrate your Software Group Task Sequences in the SCCM.
Software Lease
Exports data about software which is currently being leased to users. If this is not exported, leased software will not be uninstalled at the end of the leasing period.
Software Variables
Exports Software Variables for the shop.
Web Services
Exports your web service configurations.
Import Data
To import data, select the "Import Data" checkbox.
Select the xml file to import from and click "Next" in the lower right corner: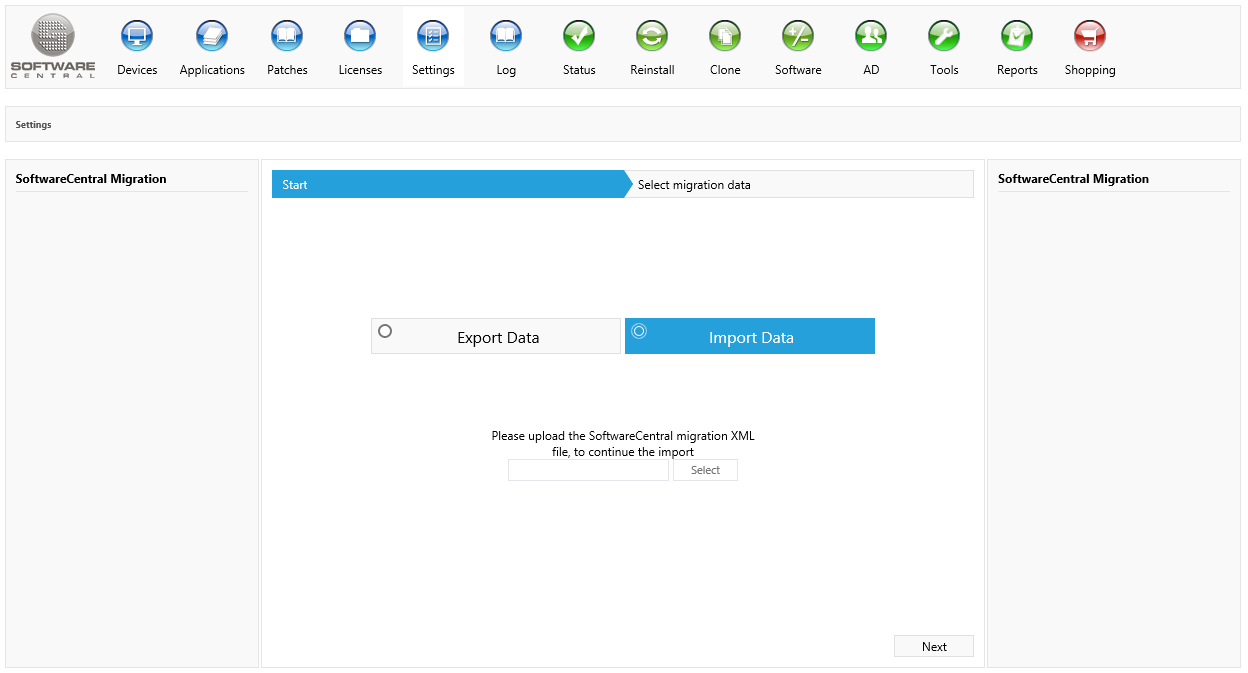 You can now deselect any exported items which you do not want to import.
| | |
| --- | --- |
| | Note that any existing items of the selected types will be deleted. |
| | |
| --- | --- |
| | For some items, SoftwareCentral must be able to change the index columns on the database tables. To do this, the SoftwareCentral service account (application pool user) requires ALTER permission on the SoftwareCentral database. If the service account is dbo, it does not require the ALTER permission. |
Click "Finish" to import the data.