All Reports is used to read SCCM reports. These reports are not included in the SoftwareCentral security roles. They are instead using the SCCM security for reports.
All Reports can be found under the "Reports" menu button: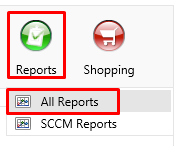 Select a report category, report name and click on the "Load Report" button to display a report.