In the downloaded zip file you will find an installer: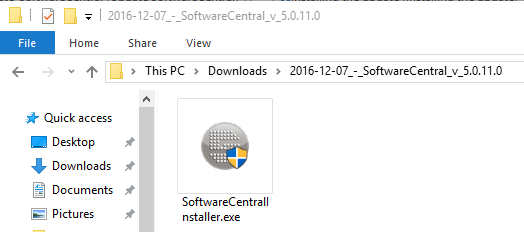 Launch the installer from the server where SoftwareCentral is installed.
| | |
| --- | --- |
| | The installer must be launched with an account which have administrative permissions on the web server and full access to the SoftwareCentral database. |
The installer will launch a wizard.
The first step will run a prerequisite check on the server to determine if all required Server Roles are installed.
The next step requires the Application Pool user and password: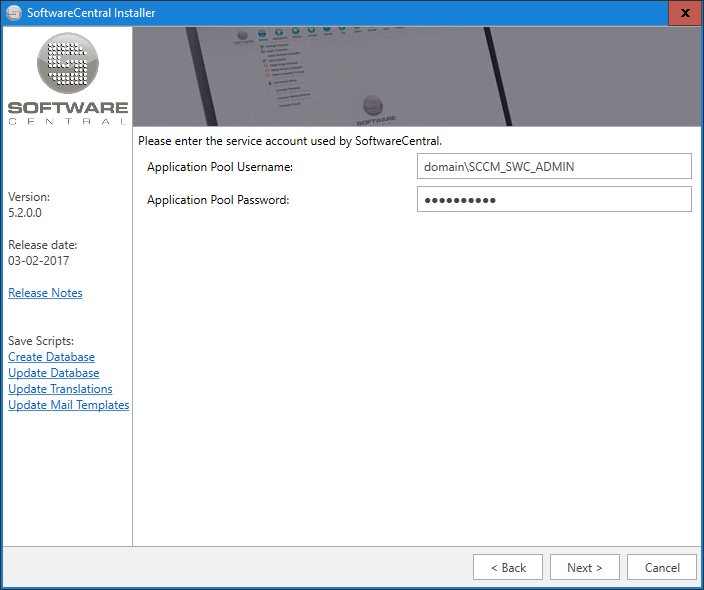 The next step can check your SCCM to see if the service account (application pool user) has the proper permissions in the SCCM and the SCCM database: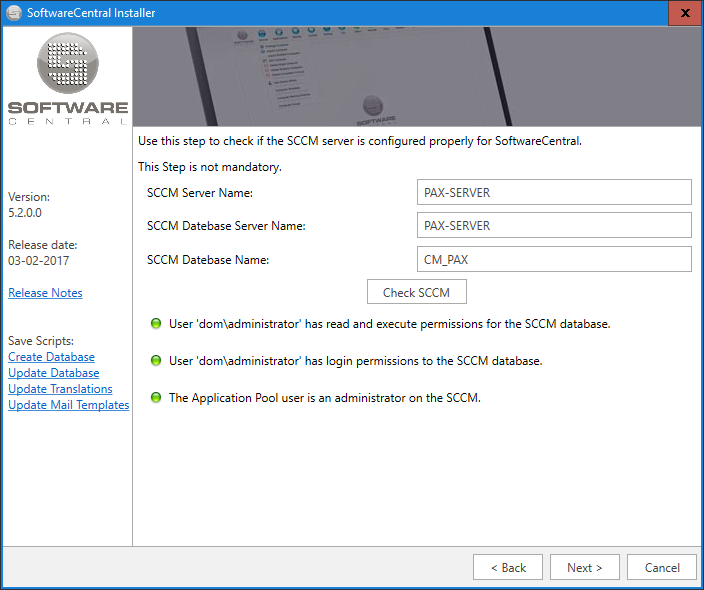 In the next step you must fill in the SoftwareCentral web site and database information.
You have the options to update the translations and restore the default mail templates. Note that restoring the mail templates will override any changes you have made to the mail templates, including any translations you may have created.
When you click Next from this step, SoftwareCentral will get installed. It is important that you do not cancel the installation progress.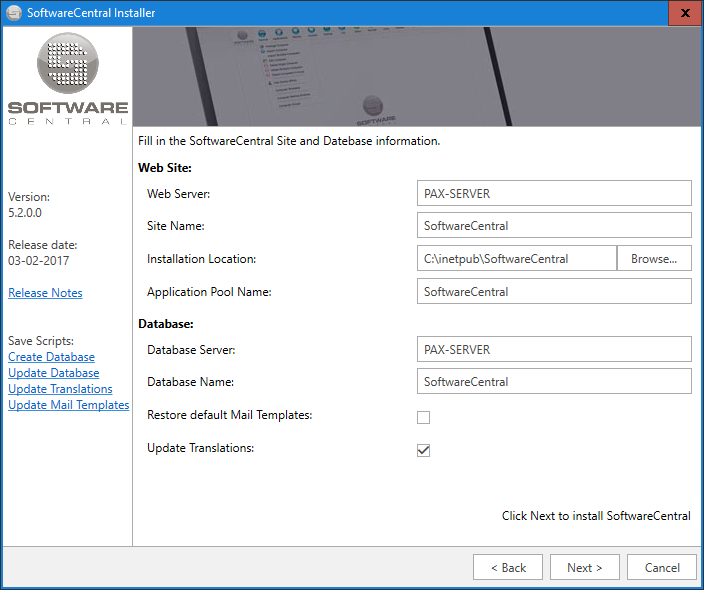 At the end of the installation, the installer will give you a summary of any errors which might have occurred during the installation: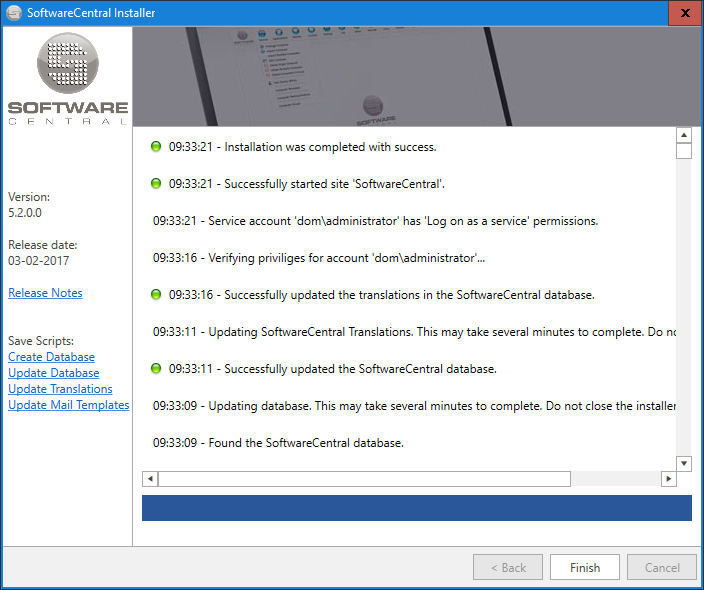 Click Finish to close the installer.
You can run the installer again if something went wrong.
If the installer failed in creating and updating the database, you can download the scripts from the left menu of the installer.
See the chapters "Manually setting up the SoftwareCentral SQL database" and "Manually setting up the Microsoft Internet Information Server" for detailed information on how to configure the database and site manually.
You may want to add some customization to the site created by the install. See the next chapter below for more information.
SoftwareCentral now needs to be configured before it is ready to use. See the chapter Basic Configuration before use for more information.
After the installation
The installer only creates the most basic web site. We recommend that you give your site a proper host name and binds the hostname to the servers IP-address in the forward lookup zones on your DNS.
| | |
| --- | --- |
| | Host names may only contain alphanumeric characters including (-) and (.) |
We also recommend that you set up SoftwareCentral with a SSL certificate.
To set up a SSL certificate, you first need to install the proper certificate. You can get this from your company certificate authority (CA).
After you have installed the certificate on the server, add a new binding on the IIS and set the type to "https". Enter your host name and select your SSL certificate.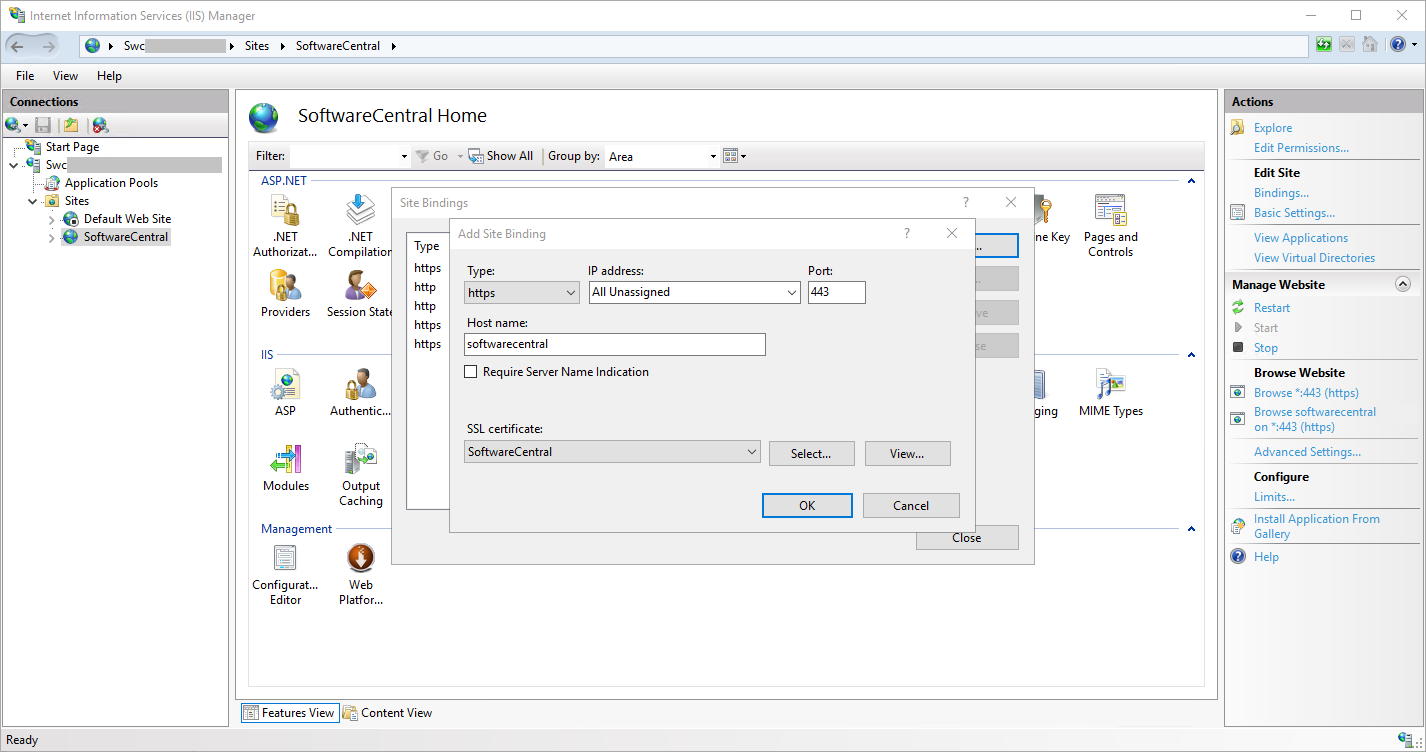 Configuring SoftwareCentral