SoftwareCentral has a license module to manage your licenses. It works by setting a number of available licenses for each package or a group of packages which share a license. SoftwareCentral will then keep track of where the licenses are used and make sure the licenses are used and make sure the license count isn't exceeded.
Other features include detailed reporting and license harvesting.
All license counters, both single packages and groups, are set up from Manage Licenses. Manage Licenses is located under Licenses button.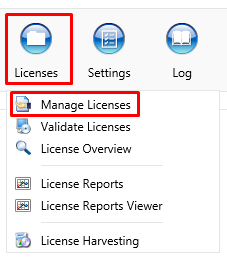 By clicking the "Manage Licenses" a following window will appear: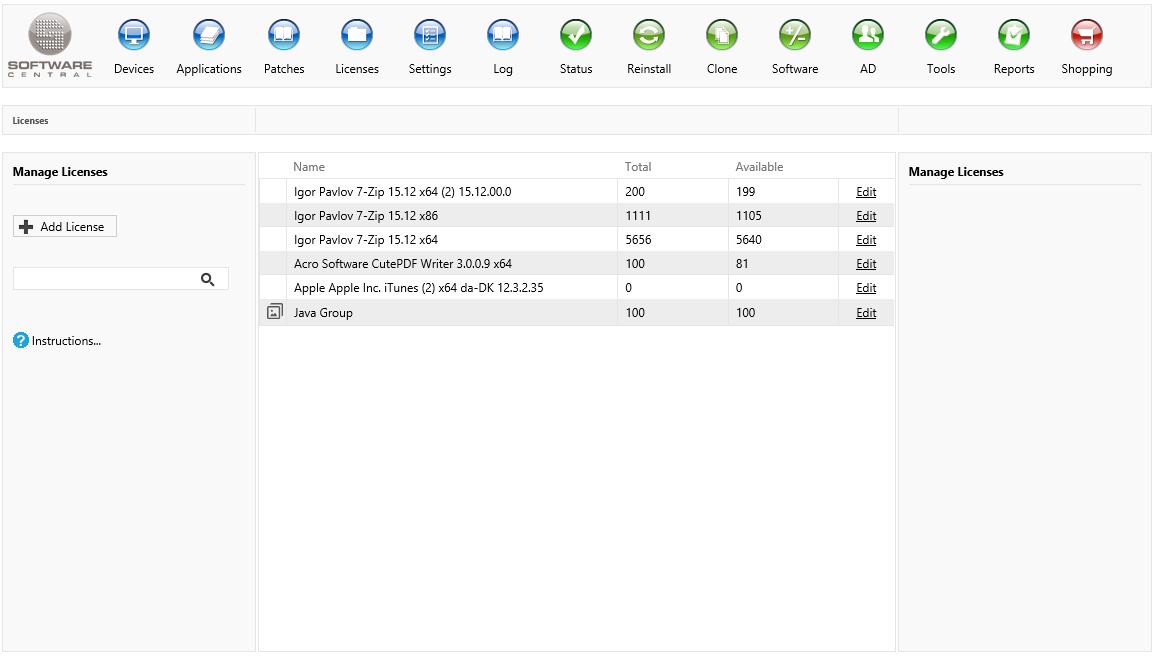 The grid in the middle displays an icon for license groups.
The Name is either the package name or the license group name.
Total is the total amount of licenses a given package or group has.
Available is the amount of licenses currently not in use. If this number becomes negative it means that too many licenses are in use. If the available license count becomes larger than the total amount of licenses it means that the package was uninstalled from a computer that wasn't registered in the license module.
| | |
| --- | --- |
| | To reset the counter, click "Edit" and then click on "Reset Counter". |
Click on the "Add License" button, found in left side of the menu in manage licenses, and a new window will appear.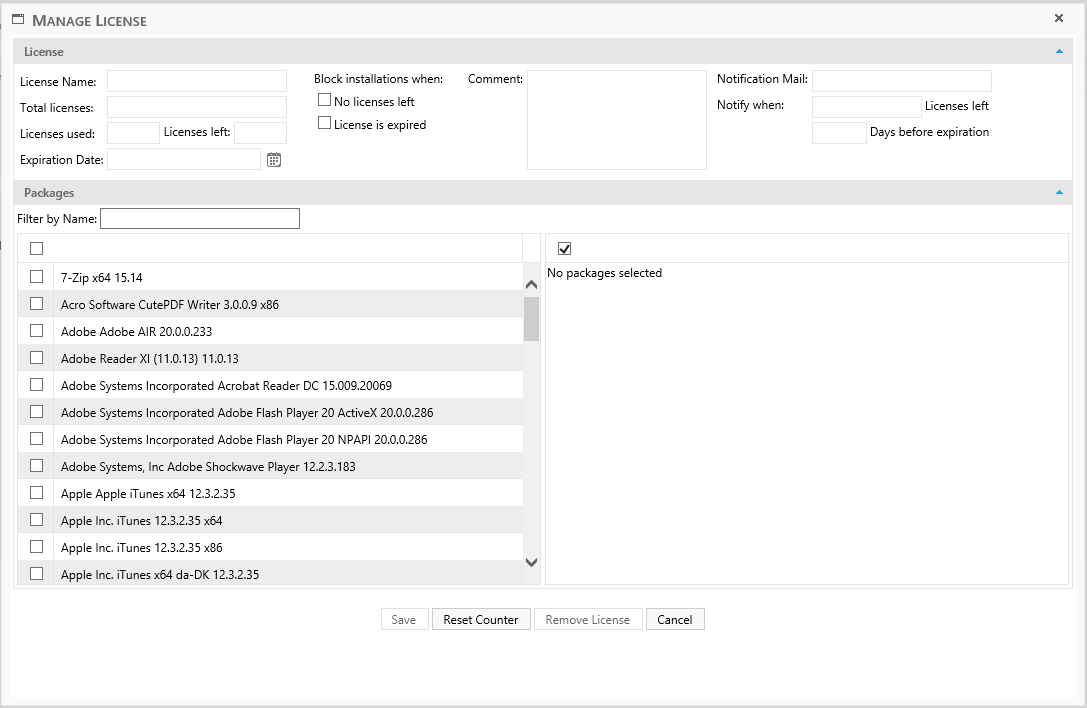 Follow these steps to create a license.
1. Enter the amount of licenses in total licenses.
2. Select one or more packages from the grid to the left.
Use the "Filter by Name" box to filter the grid. If more than one package is selected, it will automatically create a License Group.
Note: The naming textbox can only be changes if a license group is created
Optional settings:
3. Expiration date: Enter the date where the licenses will expirer.
4. Block "no license left": It won't be possible to install the package when the counter reaches zero.
5. Block "license is expired": It won't be possible to install the package after the date selected in expiration date.
6. Comment: Description of the license.
7. Notification mail: The mail to the person that needs information if the license is about to expirer, or there is only a few more license left.
8. Add number of days before expiration, a mail is send to the notification mail.
9. Add number of license left before sending a notification mail.
Click Save to save the license.
The "Reset Counter" button will reset the license counter.
The "Remove License" button will remove the license, with all install history for the package or group of packages.
Click the "Edit" button next to a package or License Group.
The same window as before will open. From here the license count all other settings can be changed.
If the package is changed, it might be necessary to use the "Reset Counter" button and then go to "Validate Licenses" to get the current installation count from the SCCM server.