SoftwareCentral provides the ability to replace a package with a new. The only requirement is that the new package can update or remove the old version.
Replace Package/Application is found under the "Applications" menu.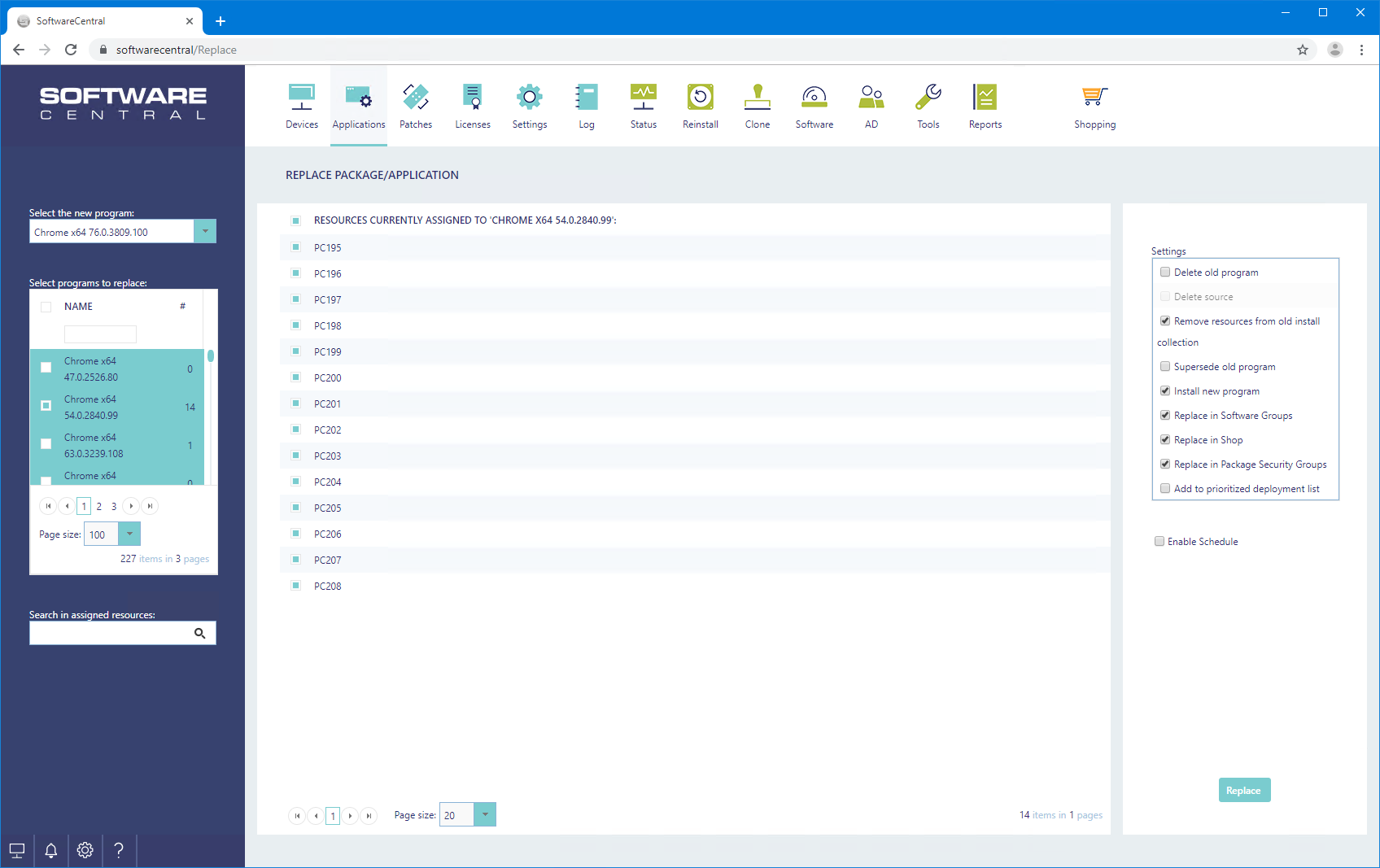 When a package or application needs to be replaced, the new package is selected in the first drop down found in left side of the interface.
SoftwareCentral will then auto suggest packages to replace and mark them with a green color.
Note that the suggested packages are not guaranteed to include all or be the right packages. It is only a suggestion based on an algorithm.
You can select one or more packages to replace.
This will populate the grid found in the middle with all computer and users currently assigned to this package. The search field found to the left can be used to filter the grid.
| | |
| --- | --- |
| | Deselect any resources you do not want to upgrade using the check boxes to the left in the grid. |
Before the package is replaced, there are some options in the right side menu: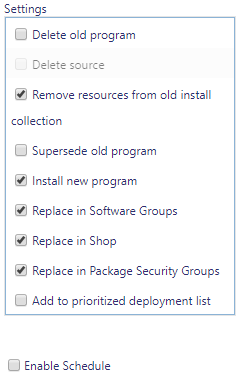 1. Will delete the old packages from the SCCM server, along with advertisements and collections. (The source files will remain)
2. Will remove the source files of the old packages.
3. Will remove all resources from the old install collection. This must be checked, so that the old package won't be installed again. If 1 is checked, the old install collection will be deleted. Therefore, it can only be unchecked if 1 is unchecked.
4. If both selected programs are applications, it is possible to supersede the old application with new one, if this setting is true, the following window will appear when "Replace" is pressed. This option is only available if you replace one application.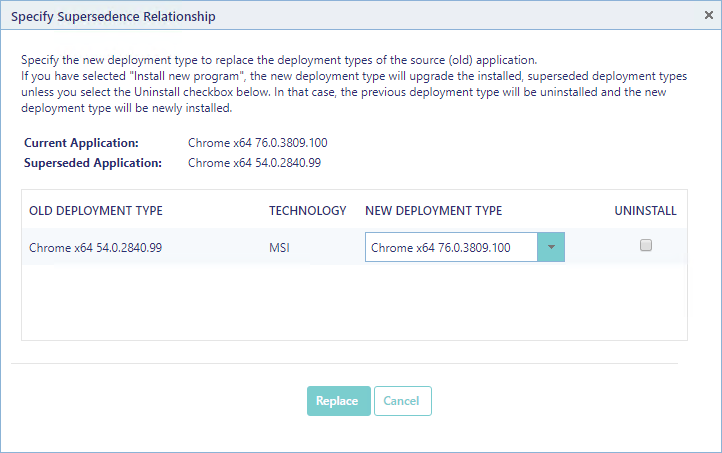 5. If checked, it will add all the resources currently assigned to the old (Source) package to the new (Target) package' install collection.
6. Will replace the old package in all Software Groups. This does not apply to Software Groups already deployed; enabling point 4 will update them.
7. Will replace the old package in the shop, adding the old package name, description, price, approver, picture etc. to the new package. (The old package is removed from the shop)
8. Will add the deployment to the "prioritized deployment list" in the Deployment Manager, for easy follow up.
9. It is also possible to add a schedule for the replacement of the package, note this is only schedule for when the resources is transferred. If not data is selected but the checkbox is still selected, the default time is 7 days.
When ready to replace the old package, click on the "Replace" button in the lower right corner.
Best Practices and Examples